If you are looking for a non – touristic place to relax with a hot spring, culture and history, visit River Kwai – 
Home Phutoey
 in Thailand!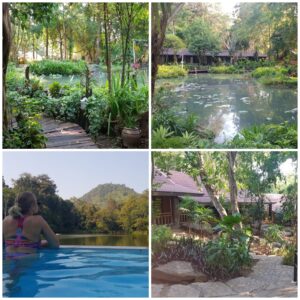 I have discovered this beautiful place by accident! Then next day, I was relaxing in its hot spring, feeding the elephant in the village, and jumping into River Kwai to drift with the flow! I am not joking 😛
 It is a hidden and not very touristic place, so it is perfect if you are looking to relax! It is around 1.5 hours drive by scooter from Kanchanaburi that is a town in west Thailand. It's known for the Death Railway, built during WWII. The line crosses over the River Kwai.
Surrounding
 Only 10 Minutes walk from Home Phutoey through the forest is the village, where you can meet the locals. They also sell traditional Thai clothing and live in wooden bungalows. You also have a chance, to feed an elephant, just pay pennies for the bananas! When you walk up the hill, you will meet Buddha. There is a little temple where locals pray. The view from there is breathtaking. Just 2 minutes walk from the village towards the river, is a floating Hotel. It welcomes visitors for food or to stay! You can also put the life jacket on and jump into the water from the hotel. It is so much fun! There aren't any dangerous animals in thewater, and you are just drifting with the tide! So, don't be afraid you will love it 🙂
What else can you find at Sai Yok?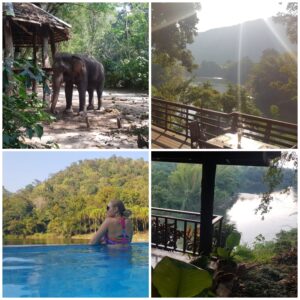 A memorial dedicated to the Asian labourers and Allied prisoners of war who suffered and died constructing and maintaining the Burma-Thailand railway during WW II. – TripAdvisor
If you would like to get to know the history of the country you are visiting, this is one place to go. I was in tears. They give you a headset and as you walk along the  path, they tell you the story about each part.
Trainride and  the Bridge over River Kwai
I will come to the prices at the end of my blog, but the tickets for the train are very cheap! Just as a note: It's no luxury or first class here.:)
Erewan Watefall
It's like a cold bath in the Jungle! Beautiful surrounding, very close to Home Phutoey too. A must visit place when you around Kanchanaburi!
River Kwai Jungle Rafting
This beautiful place offers hikes, boat trips, mountain biking and canoeing down the river! Both hotels have availability for these trips. Personally I stayed in Home Phutoey, as i loved dipping myself into the hot spring water in the evening. However, if you prefer to stay right on the river, in a floating hotel:  Hotel River Kwai Jungle Rafts  can be a good option for you too!
Prices
I linked TripAdvisor and Booking.com on my blog. You can book the trips there.
However, as I was traveling for 6 months, I was on a budget. I did not pay for trips and tours as you can get it cheaper at the accommodation or if you buy them Locally. That applies to train tickets and renting a scooter too. However, I have booked the accommodation in advance through www.booking.com for only 1200 baht that equals 27 pounds for a night for a room that has a river view!:))))))
I had dinner at the hotel's restaurant and they make some tasty food. But I could only afford to do that once as a backpacker. The rest of the time I ride my scooter to a small family business restaurant close by, and had some delicious Pad Thai for 40-50 Baht = 1 pound.
 I can also say I was in the best shape of my life during travelling, but I will write a separate blog on How to stay healthy during travelling. You move lots like: swimming, kayaking, walking, snorkeling and drink plenty of water and most of the time you eat healthy too with lots of delicious fruits and vegetables.
 Hope this is helpful!
Love,
Alexandra