When we hear about Dubai the luxury, charm, the continuously growing infrastructure is that pops into our mind. However, culture also plays an important role in UAE lives.
I remember when I bought the flight to Dubai, I was quite worried after reading all the horror stories about arrested tourists for no Reason! But the truth is: HAKUNA MATATA: Means No worries!
Lots of blogs, articles make it sound so much worse than it is. And I experienced this myself. Even there are cases where tourists have been arrested, the chance that you will be the next one is very little. Unless you disrespect their culture, sell drugs and alcohol, misbehave in public, or sexually harass someone you will NOT get arrested. But all these things can be the same in another country.
What you can do?
1. Holding hands with your partner ✅
Yes, you are allowed to hold hands. However, too much affection is not appreciated in public. If you kiss or hug and get caught you can get fined.
2. Drink alcohol in licensed bars and restaurants ✅
As I mention here, you can only drink in licensed bars and you can buy alcohol in restaurants. However, you are not allowed to drink in public or at home. Well, shops do NOT sell alcohol, but of course, there is always a way to get it, but I would not recommend it. Just visit the bars, they have a great atmosphere and are a good way to socialize.
3. Wear a top without sleeves ✅
Look at most of the vloggers and Instagram travel bloggers. They all are in sleeveless dresses. This wasn't an issue for me either. It was way too hot when I was there. So I even wore shorts and a strapless top. I however covered my shoulders in public areas, like in public transport and shopping centers. Just out of respect. When I arrived I was worried locals will get very angry about it. I remember standing by the fountain with my partner the time and one of the local ladies came up to us and showed us the video she made. She filmed us cuddling while watching the show and romantic music under it. I was so surprised. She said that was like in Disney films. She was lovely. So they weren't bothered. As long as your clothes are not revealing you are ready to go!
Bikinis are strictly and only allowed on the beach. You should not walk to restaurants in your bikini. Dress up!
4. You are allowed to follow your own religion ✅
UAE is a Muslim nation but they respect your religion. It's pretty amazing to see their culture. I am a curious person and that's why I love to travel. They pray 5 times a day and even you are chilling on the beach you will hear the prays from a speaker. However, as a visitor and out of respect you should not disturb roads and areas around Mosques. During Ramadan locals are fasting. Different rules apply. No eating, drinking, and dancing in public places during this time!
5. Unmarried couples can stay in hotels and the same room ✅
I need to be honest, Dubai is not a cheap destination. Good quality hotels are expensive to stay. There are also lots of accommodations, hotels where you can stay cheap, pr book them for only few hours….. you know what I mean. Watch out for sex tourism. In these hotels, you can stay as unmarried couple. but I would not recommend. They can be located in an area that is not as pretty and noisy too! We have stayed in Hampton by Hilton Dubai Airport hotel. This is closer to the airport but further away from everything 😀 For this reason, this is cheaper, around 54 pounds a night. When the others vary from 70 pounds to 200. This was affordable for a week as a backpacker.
Now that we know what you are allowed and what you are not, let's see where to go and what to see.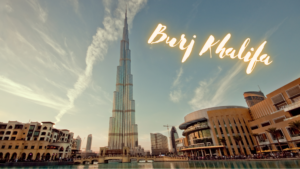 Burj Khalifa is a  829.8 m skyscaper, which makes it the tallest in the world (they are building an even higher one there 😱😱😱😱)
The ticket prices vary depending which floor you want to visit. Ticket prices HERE! I went up to the 124th floor but you can go up to 148th. The price for these is 33 and 103 pounds.You can also purchase VIP dinner tickets that is pricey, but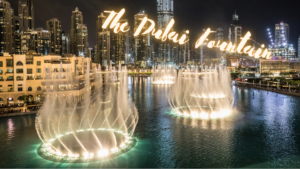 This fountain is located under the Burj Khalifa (you can see it from the top) and is part of the Khalifa Lake. It is the biggest fountain which host shows several times a day free of charge. While the fountain and water is dancing, different range of classical and contemporary music is played that gives this place the most magical atmosphere. It is Illuminated by 6,600 lights so it is not only a water show but a light show too! It officially opened for viewers in 2009 together with Dubai Mall! If you like shopping, visit Dubai Mall too. You can see it on the first picture. These are all in one area! To access Burj Khalifa you will need to walk through the Dubai Mall.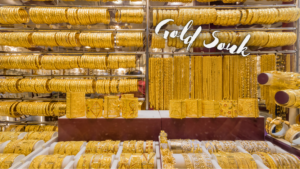 The Dubai Gold Souk is a traditional market. It is located in Dubai's commercial business district in Deira. Be prepared when you visit this place, there will always be someone coming up to you to sell something. Those individuals might actually sell 'fake' well known brands at a cheaper price. These items includes bags, clothes, perfumes.  However all gold, platinum, diamond in this place is real and you will find a huge variety of jewelry here.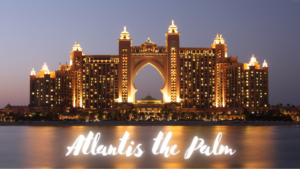 This hotel is located on the Palm shaped island of Dubai, which I am sure you know about as it is world famous with lots of resorts, businesses, Atlantis Aquaventure & Lost Chambers and this beautiful Hotel.  Royal Towers rooms start at 300 pounds per night for a terrace-view room and go up to 7000 pounds.  You can access the bar of the hotel free of charge and have a look around in it's small shopping centre. You can also take a boat trip around the island for a fair price or if you are an active person you can even cycle. 🙂 There is just so much to do!!!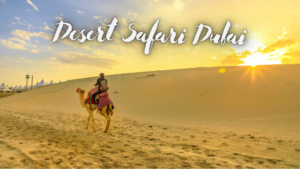 Up for an advanture? Than the safari camel ride and  sand boarding is for you! The package includes a great nigh BBQ dinner and some amazing shows. You can book tickets HERE.
 I can't leave out the world's most iconic hotel : Burj Al Arab
You can visit it's bar without being a hotel guest. In only one word this hotel is luxurious! You can get a Deluxe Marina Suite for 1200 pounds up to a Family suit for 6000 pounds per night! So it is entirely up to you how much luxury you can take as you have lots of that in Dubai!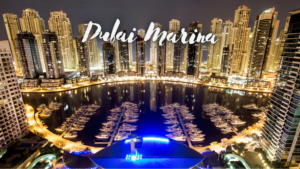 Marina walk, Yachts, Jet-skiing, skydiving, shipping,  dinning and going to bars with the best sight is all available here! Night life is amazing here and the atmosphere is awesome too!
Visa Requirements to Dubai!
FROM most places you will be able to visit dubai. How long you can stay depends which countries citizen you are. You can stay without visa for 30 days from the following counties: Andorra,Australia,Brunei,Hong Kong, China,Macau, China, San,Canada, Marino,China,Kazakhstan, Malaysia, Mauritius, Monaco, Japan,   New ZealandRepublic of Ireland Singapore, Ukraine, United Kingdom and Northern IrelandUnited States of America, Vatican City
Some other countries are eligible for 90 days visa. You need to make sure your passport valid the next 6 months. You will also be asked for your return flight ticket in the immigration gate.
Hope this was helpful!
Alexandra